Ice Crusher MaxStat - Inline Coolant Bypass Thermostat for UTV Heaters
Ice Crusher MaxStat - Inline Coolant Bypass Thermostat for UTV Heaters
Product Description
Ice Crusher MaxStat - Inline Coolant Bypass Thermostat for UTV Heaters
The MaxStat directs all engine coolant to your Ice Crusher Cab Heater, this means that the output of your heater will be at its maximum. If there is heat in your cooling system them you will have heat from your Ice Crusher Cab Heater. More heat means a warmer cab and in turn a warmer you!
MaxStat only opens to let coolant flow though the radiator when the cooling system requires it to keep the UTV engine at an optimal temperature.
CNC Machined Aluminum.
Sizes available:
7/8-1" (23mm) for Approx. 7/8 to 1" ID Radiator Hoses
1-1 1/4" (28mm) for Approx. 1" to 1 1/4 ID Radiator Hoses
5/8 barbed heater hose output.
Ships with a Replaceable 180' Thermostat.
$129.95 Sale Price $99.99 - But if purchased with one of our heater kits the drops to $85.99, Saving $10 *
* $10 Savings is only available when the Heater and MaxStat are purchased and shipped together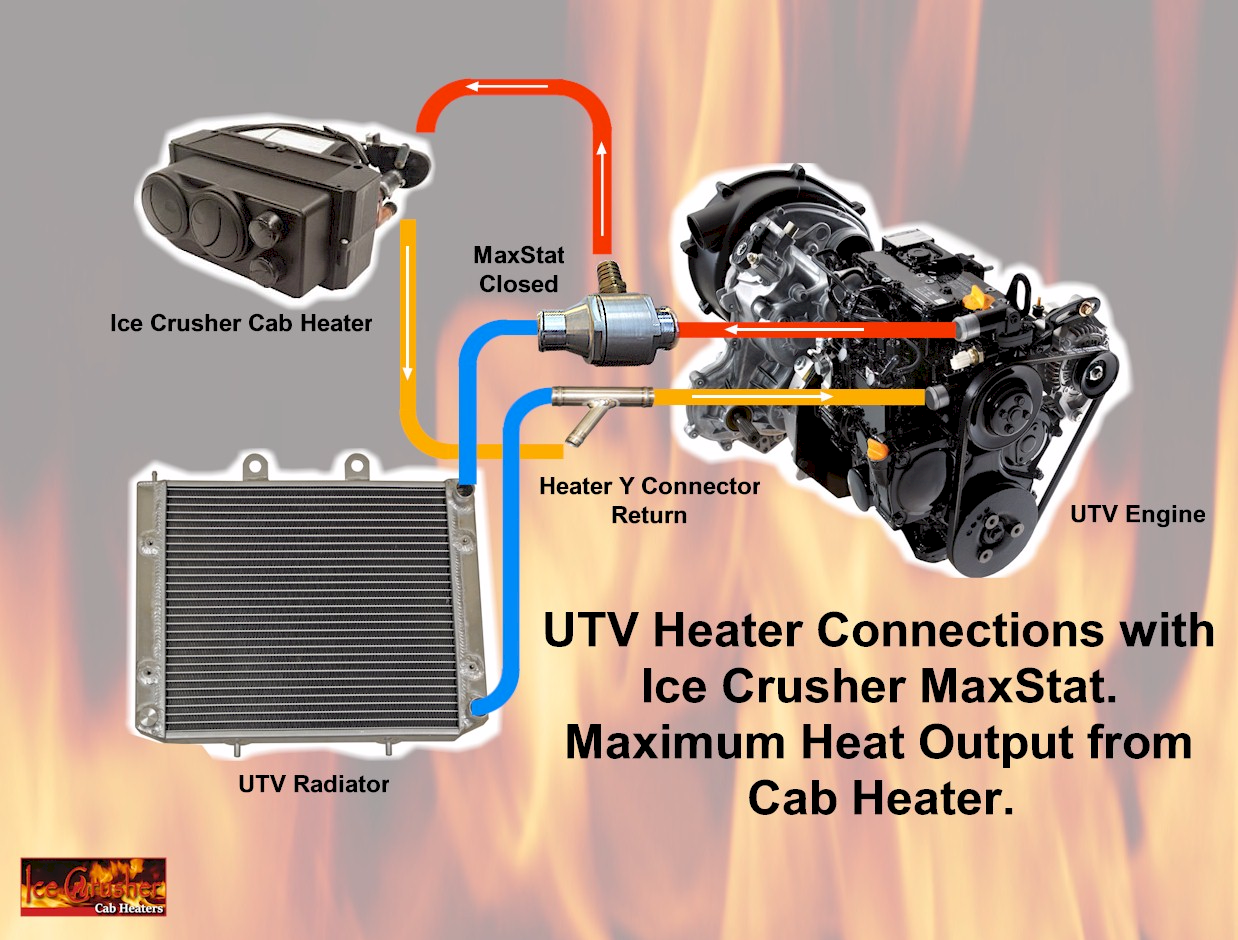 Product Reviews
Write Review
Showing reviews 1-10 of 12 | Next
well made

Posted by Kevin Onuffer on Aug 21st 2018

Very well made product. Worked as it should with no problems. Installed on Polaris General 1000.

This is an awesome company

Posted by Patty Martin on Feb 5th 2018

I wish I could give a review on the but we bought the ice crusher heater and ordered the bypass thinking we would need it. We found out that the way the side by side was set up we would get the maximum output of heat without installing the bypass I have to say the heater is AWESOME and had we needed the bypass I am sure it would be awesome too. Thank you Couper's!!

Maxstat thermastat

Posted by Phillip Johns on Feb 1st 2018

Vary good product easy to install and works great on my 550 Cub cadet side by side

looks well built

Posted by Dan Carpenter on Jan 8th 2018

Just got it installed this weekend, product looks well built. I guess I'll see how good it works in the next couple of days.

Very well built

Posted by Charlie Galownia on Nov 11th 2017

Perfect addition to the ice crushers heater

Quality

Posted by Dave Wakefield on Nov 10th 2017

I've bought 4 of the Maxstats. They have performed flawlessly. One on a 800 RZR, 2-1000 RZR and a General!

Good product

Posted by Victor C on Dec 28th 2016

Once installed heat output tripled. Must have unit for heaters.

Excellent service

Posted by Donnis Foreman on Dec 22nd 2016

Bought one of the ice crusher heaters for our new Can Am Defender. When it was idling low to no heat. But the guy I talked to on the phone got me straighten out and I would recommend the MaxStat to anyone.

Must Have for Heaters in a SxS

Posted by Chuck on Dec 6th 2016

I installed the (another manufacture) heater originally and tried it without the bypass for an entire day of riding. While it did start blowing heat it would go cold anytime I got up over 25 MPH on a brisk 30 degree day as the radiator would cool the coolant too much.

Fast Forward 2 weeks when I added the bypass (which was a very simple install). My heater starts getting warm the first time my engine thermostat opens (As I left it in as well) and the heater will get warm while just idling as opposed to it didn't without the bypass. I have tested this as low as 17 degrees and will be testing it in the negatives within a month or two when it gets colder.

Overall I would say if you put any heater in you should have this by pass.

Note: I am using this in a 2016 RZR 1000 XP

Check Hose Sizes

Posted by Unknown on Nov 10th 2016

The max stat supplied for 2011 Polaris RZR 800 that I received had smaller male ends than the existing thermostat and rad fittings for this machine. Had to tighten down hoses onto these smaller fittings. Appears to not leak. Heater works great. Very warm quickly.

Coupers Products Response:
Thanks for the comments. Our MaxStat is designed to be used with 7/8 - 1" hoses. Radiator hoses on older machines can expand a little over time as the MaxStat sizing is correct for your machine.

Showing reviews 1-10 of 12 | Next
Find Similar Products by Category